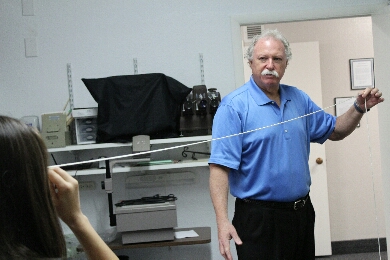 We are a primary care optometry practice and we see everyone seeking vision care. We specialize in providing thorough vision evaluations, which are quite different from a regular eye exam you've had before. The evaluation we provide is important especially for children, children with special needs, and those that suffer from stroke or brain injury. Children with reading difficulties or learning problems should also come in for a vision evaluation because undiagnosed vision problems is a major cause for these problems
Thorough vision exams are important for patients with computer related visual problems and headaches and anyone who is not getting answers to their visual issues from standard eye doctors. Parents of children with a turned eye or lazy eye that have been advised to receive strabismus surgery (eye muscle surgery) must have a behavioral optometrist evaluate the child before agreeing to proceed. 
We are also a teaching institute. We have optometry students training at our office just before they graduate. We also have practicing optometrists visiting us from around the world who wants to learn more about the way we practice. Our doctors provide continuing education in the office and around the world, lecturing about vision therapy and behavioral optometry. We work closely with the nearby neurological hospitals to provide vision rehabilitation to post brain injury patients. We also provide community vision screenings to schools.
We are dedicated in helping people reach the potential of their visual process to meet the demands of their everyday lives. Unlike most optometrists and opthalmologists that prescribe only compensatory lenses to help patients see clearly, we frequently prescribe therapeutic lenses with the use of glasses and contacts. Therapeutic lenses are designed to help stimulate visual development and improve overall performance. Some areas that therapeutic lenses are used for include myopia control and reduction, rehabilitation post brain injury, learning problems, computer vision syndrome, autism, and preventing the need for eye muscle surgery.

 
We also provide vision therapy in office. Vision therapy is a non-invasive, dynamic, interactive process that gives people the proper conditions and environment to modify visual performance to their advantage. One example is children with vision related learning problems can begin to read and learn if given the opportunity to do some vision therapy with us and or wear the appropriate glasses. We want our patients to succeed in life, with the proper vision care, they have a much better chance of reaching their potentials.